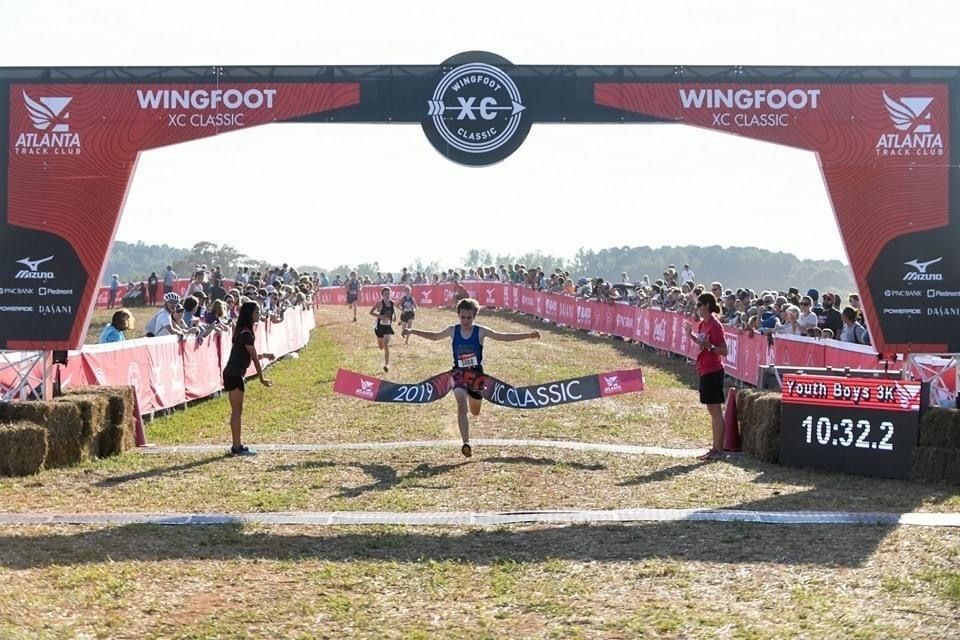 Learn All About our Team!
In the Fall, our team competes in several cross country competitions in and around the Atlanta area. Our team has been very successful over the years, but our philosophy is to run to have fun...and if we happen to win - even better!

While most of our meets are termed "middle school" meets, certain younger runners (dependent on ability) are able to take part too.  Cross Country is a great way to experience running competitively as well as to expose the kids to the sport before they join High School.

There are qualifying standards to join our team. They are as follows:
Must be able to run 2 miles without any walking at all and be able to run a mile in under 8 minutes (boys) and under 8:30 (girls).

Registration is done offline. The fee is $165 which covers meet entry fees, team shirt, admin costs, club registration and fees, team Insurance etc. Uniforms (singlet) are an additional fee.

The Great Strides kids train 3 times a week during the season. Twice with the GRK kids (they will register for Fall GRK; training is differentiated at these practices) and one day which is exclusively for team members.

Our season starts toward the end of summer and runs through October, with several of our runners going on to compete in the USATF Junior Olympics.

At this time, we do not officially participate in track, although we do train our team to prepare them for running track on their middle school teams.
 
Joining Great strides has been the greatest thing we have done for our girls. They learned more about running than ever before and gained more confidence in the process. Everything Coach Greg told our girls has a meaning that serves them well before a meet or after, and during practice as well. Even though my oldest daughter, Carmel, was only able to be in his program for a year, she got into the best shape of her life and became the 7A State Champion sophomore year in high school. Izzy, her younger sister, has been with the program since 7th grade but never really took running seriously until he encouraged her to run in high school. Coach Greg believed in Izzy and guided her to the potential he saw from the very beginning. He taught the girls that there's more to running than just winning - it's about sportsmanship, positivity, and a place to have fun. The girls met some of their best friends while in his program and are perfect examples of the close-knit team he created. Coach Greg is not only a coach to the girls but like family as well. We are forever grateful for his program and continue to work with him!
- Sara A